Don Giovanni Showcase - 2/7 at Maxwells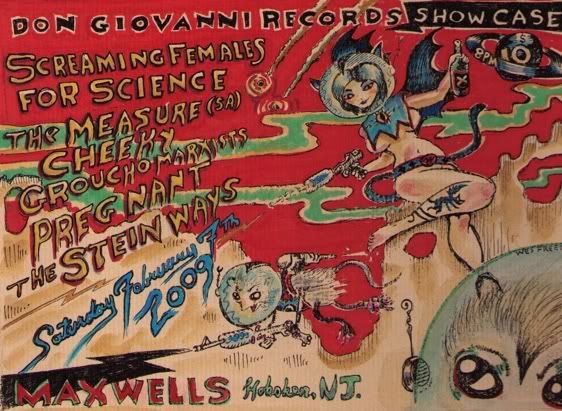 February 7th at Maxwells we have our annual showcase and this year is going to be a great one. Although it will be the last For Science show, and one of the last Steinways shows (who recently announced their breakup but are still going to be playing this show), we are going to be having brand new records out from Pregnant and The Groucho Marxists. Were also going to have new shirts from all of our bands. Also, we will have everything we have in stock for sale at wholesale prices for this night only. I hope to see lots of you there, make sure you get an advance ticket if you want to make sure you get in. Here is the full info:
Feb. 7th, 2009
Maxwells
Hoboken, NJ
2nd Annual Don Giovanni Records Showcase with...
SCREAMING FEMALES
FOR SCIENCE (Last Show)
THE MEASURE (SA)
CHEEKY
GROUCHO MARXISTS (Mainfesto! LP Record Release)
PREGNANT (Wanna See My Gun 7" Record Release)
THE STEINWAYS
Advance Tickets:
http://www.ticketweb.com/t3/sale/SaleEventDetail?dispatch=loadSelectionData&eventId=683494
On Facebook:
http://www.facebook.com/home.php#/event.php?eid=38251642759
Labels: Cheeky, For Science, Groucho Marxists, Measure, Pregnant, Screaming Females, Steinways